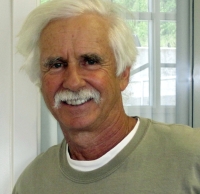 "Few animals are as sacred and iconic to Puget Sound residents as orca, or in more dire straits." David B. Williams, Homewaters
Free Willy taught the world what we in the PNW already knew: orcas are amazing and shouldn't be held captive. The Cove horrified us at the slaughter of dolphins and the capture of others for the marine circus/slave trade. Blackfish enraged us at Tilikum's treatment in captivity. And Tahlequah's 17 day tour of grief bearing her dead calf alerted the world to how intelligent and compassionate orcas are.
Beyond The Human Realm – winner of the 2021 National Indie Excellence Award for Animal Fiction -- brings all those incidents and concepts together and into focus.
Profits from sales will be donated to orca conservation. ISBN 978-1-64388-659-6. See https://genehelfman.pubsitepro.com/.
Recent Posts
https://www.amazon.com/author/genehelfman
Beyond the Human Realm: A Novel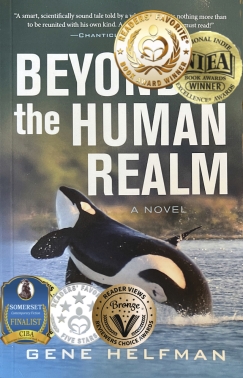 A novel of love, loss, and redemption...among whales.
Published by Luminare Press
"An engaging, fascinating, exhilarating, deeply moving, always unexpected and thrillingly unpredictable work of fiction . . . which like any great work of fiction can change your worldview... almost impossible to put down." Reedsy Discovery Reviews
"5/5. . . one of the most grounded nature novels I have read. . . I highly recommend this book." -- Seattle Book Reviews
". . . as engrossing and lively as the lulling crashes of the sea." -- San Francisco Book Reviews
"5 stars…a tale of extraordinary scope… undoubtedly one of my best reads so far."-- Readers' Favorite
"5 stars; This incredible book is an intriguing and important nature drama … Entertaining and informative, … you'll find yourself emotionally invested almost immediately.. If you are drawn to the ocean, sea life, or orcas, you will love this book. … a definite keeper; a novel that perfectly presents nature, wrapped in a package of pure enjoyment—an irresistible combination. Reader Views
"…a compelling story that features romance, vivid descriptions, interesting characters, and remarkable writing...The prose is dazzling and the story as beautifully paced as it is cunningly plotted." -- The Book Commentary
"... moves as fast as an orca pod during a salmon run, centering as it does on human interactions with orca whales, the repercussions of which are almost always tragic for the orca ... With humor and intrigue, we come to understand the inner lives of the orcas." — ecolitbooks.com, @EcoLitBooks
"Helfman's cinematic, wide-ranging novel is a rewarding must-read for anyone who loves seafaring adventure, respects nature in all its aspects, enjoys a ribald romantic rivalry, and most of all find whales fascinating as friends and teachers to humankind. In other words, here's a novel we highly recommend. A smart, scientifically sound tale told by a whale who wants nothing more than to be reunited with his own kind. A highly recommended must read!" -- Chanticleer Reviews
"Beyond the Human Realm indeed does take the reader beyond our self-obsessed terrestrial lives and into the depths of the unseen world and lives of our whale kin. Slip back into the waters of this great read and learn again to love these magical beings." Irene Skyriver - Award winning author of Paddling With Spirits - A Solo Kayak Journey
"An imaginative and compelling story. Combining biological rigor with a deeply felt sense of place, Helfman takes his readers on an immersive interspecies journey through pain and redemption. If you're an orca lover. . .you must read this book." Jason Colby, PhD, award-winning author of Orca: How We Came to Know and Love the Ocean's Greatest Predator

". . .a fast-moving novel that centers on human interactions with Orca whales, the repercussions of which are sometimes magical but more often tragic. . .Beyond the Human Realm shows how the interplay of science and heart build[s] a better understanding of the complex relationship between all living things. JoeAnn Hart, Award-winning author of Float

Beyond the Human Realm is now available as an audiobook from Amazon and Kobo, among others It is also in Indie Washington, a collection of books from local indie authors available exclusively on the BiblioBoard Library mobile and web platform. See:
http://library.biblioboard.com/content/e49c78da-9cbb-4b39-8ccd-285663bb5ec2


Visit
https://www.amazon.com/dp/1643886592/ref=cm_sw_em_r_mt_dp_MXMBQCNMAV1W611TCB6W
paperback | 423 pages | $17.95 USD | 8.5 x 6.5 | 978-1-64388-659-6 | July 12, 2021